This is it! Stranger Things: Darkness on the Edge of Town is out today! You can find it anywhere books are sold.
For the United States this includes:
Amazon | Barnes & Noble | Barnes & Noble Exclusive Edition |  Books-a-Million | Hudson Booksellers | IndieBound | Powell's | Target | Walmart
For the United Kingdom, your options include:
Forbidden Planet – signed hardcover |Amazon | Waterstones | Hive
Or, of course, you can get it from your favourite retailer. This includes overseas territories – the book should be out worldwide, wherever books are sold.
And there are some links to check out:
— Last Friday I was a guest on the Simon Mayo show on Scala Radio.
You can listen to the full interview here – it starts around the 1 hour 39 minutes mark.
— Over at SyFy Wire, there's an exclusive extract, along with a mini-interview with me about the book.
— The Verge listed Darkness as one of their top book picks for May.
— Cinelinx call the book a "fast-paced crime novel in a swanky Stranger Things wrapper", saying:
"Darkness on the Edge of Town does a stellar job of telling a fun and engaging detective story. With plenty of twists, turns, and sleek writing style it'll suck you in and keep the pages turning. On top of telling its own unique adventure, it provides solid insight to an iconic character from the show, deepening our connection to Hopper while keeping it in line with what we already know."
—Unseen Librarian says:
"Darkness on the Edge of Town is a fantastic new addition to the burgeoning Stranger Things extended universe, and Adam Christopher does an amazing job of exploring one of the show's main characters. The author's examination of Jim Hopper is a deep and emotional dive into the character's psyche, and it proves to be an effective and compelling centre to this book."
— Roots & Reads says:
"This is an entertaining story that feels true to the character of Jim Hopper and is a fun addition to the Stranger Things franchise."
— Lauren D. Reviewer calls Darkness a "heart-pounding mystery", saying:
"This was a very fun whodunit that was easy to read in one sitting, and managed to give me all the feels about Hopper and El as a family unit."
Much more to come this week – stay tuned!
---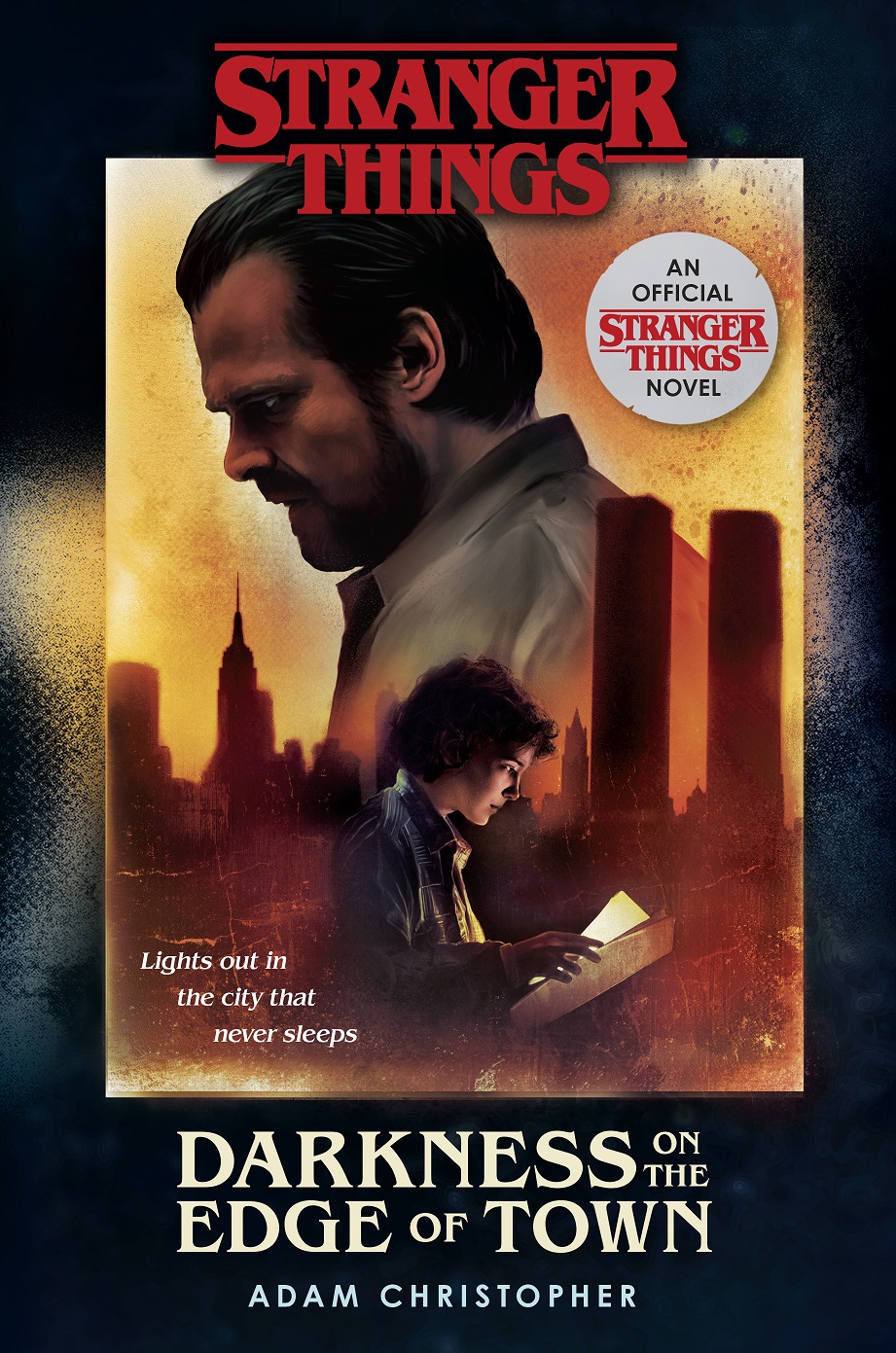 ---
Chief Jim Hopper reveals long-awaited secrets to Eleven about his old life as a police detective in New York City, confronting his past before the events of the hit show Stranger Things. 

Christmas, Hawkins, 1984. All Chief Jim Hopper wants is to enjoy a quiet first Christmas with Eleven, but his adopted daughter has other plans. Over Hopper's protests, she pulls a cardboard box marked "New York" out of the basement—and the tough questions begin. Why did Hopper leave Hawkins all those years ago? What does "Vietnam" mean? And why has he never talked about New York?
Although he'd rather face a horde of demogorgons than talk about his own past, Hopper knows that he can't deny the truth any longer. And so begins the story of the incident in New York—the last big case before everything changed…
Summer, New York City, 1977. Hopper is starting over after returning home from Vietnam. A young daughter, a caring wife, and a new beat as an NYPD detective make it easy to slip back into life as a civilian. But after shadowy federal agents suddenly show and seize the files about a series of brutal, unsolved murders, Hopper takes matters into his own hands, risking everything to discover the truth.
Soon Hopper is undercover among New York's notorious street gangs. But just as he's about to crack the case, a blackout rolls across the boroughs, plunging Hopper into a darkness deeper than any he's faced before.
---
US orders:
Amazon | Barnes & Noble | Barnes & Noble Exclusive Edition |  Books-a-Million | Hudson Booksellers | IndieBound | Powell's | Target | Walmart
UK orders:
Forbidden Planet – signed hardcover | Amazon | Waterstones | Hive